ALTRA HAND SANITIZER FOAM
ALTRA HAND SANITIZER FOAM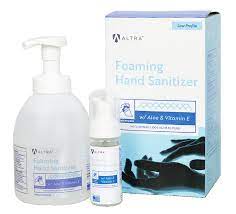 Altra Foaming Hand Sanitizer is a rich foaming, waterless hand sanitizer that reduces common disease causing bacteria*. It is formulated with 62% w/w (70% v/v) ethyl alcohol, aloe, and vitamin E leaving no residue behind. Altra Foaming Hand Sanitizer has a mild, sweet fragrance (Fragrance-free available). It is ideal for healthcare.
Altra products are available in hermetically sealed packages that are contaminate-free and allow for 99% product evacuation.
All packaging is BPA free.