CARNATION INST BREAKFAST CHOC
CARNATION INST BREAKFAST CHOC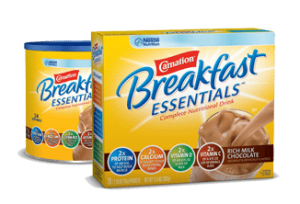 Nestle Carnation Instant Breakfast Essentials When mixed with fat-free milk POWDER provides a well-balanced nutritional supplement, and its fresh, wholesome flavor enhances compliance.
Excellent source of antioxidants, vitamins and minerals as prepared.
Rich source of calcium as prepared.
Provides 21 vitamins & minerals.
Mix with soy or lactose-reduced milk for lower lactose content. Mix with milk for a great-tasting drink.