BOOST KID ESSENTIALS 8OZ CHOC
BOOST KID ESSENTIALS 8OZ CHOC
4390091359
MFG #: 4390091359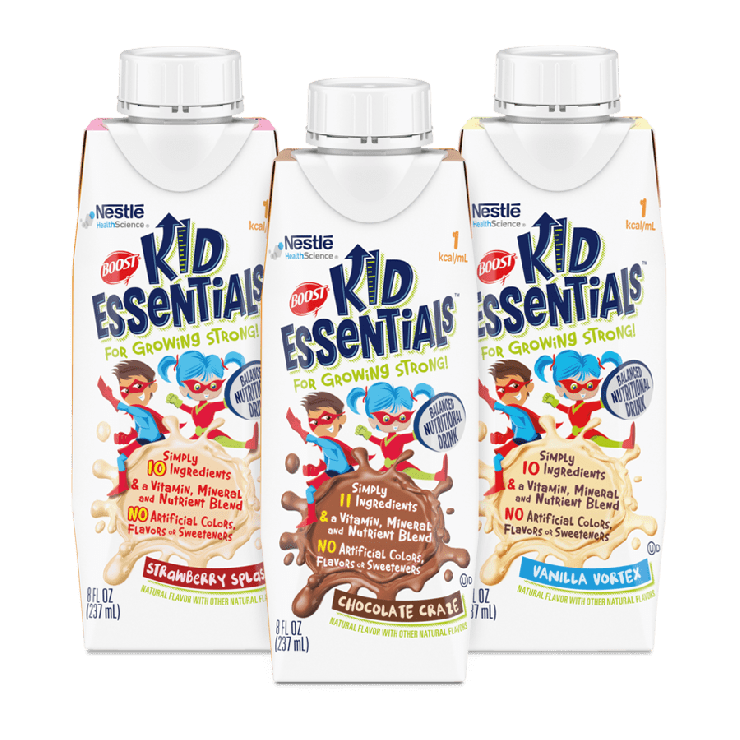 FLAVOR: CHOCOLATE
BOOST® KID ESSENTIALS™ (1.0 calorie) is specially formulated with 25 essential vitamins and minerals plus 7 grams of protein to help children get the nutrition they need.
Support Strong Bones: BOOST® KID ESSENTIALS™ drinks contain the CalciLock® blend of essential nutrients to support healthy bone development. This nutrient blend includes calcium, phosphorus, magnesium, zinc, and vitamins D, C & K and is designed to support bone health. Although each individual nutrient has a specific role, the nutrients work together to provide the CalciLock benefit.
Help Reduce Malnutrition: For a variety of reasons, including volume intolerance and increased energy needs, some children don't receive the nutrients they need through diet alone. BOOST® KID ESSENTIALS™ drinks can help provide complete nutrition.
This product may be consumed orally or used as a tube feeding.