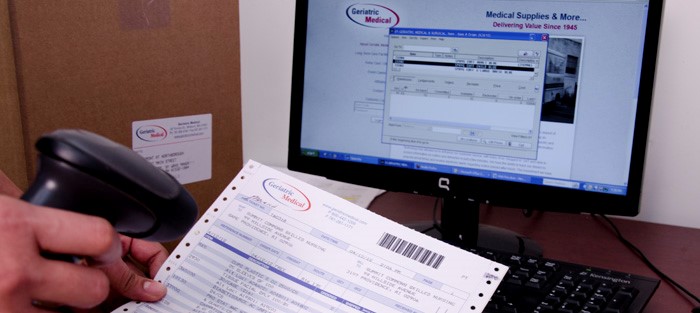 At Geriatric Medical, we have embraced technology and woven it into every aspect of our business. We have developed the online ordering system, utilizing an electronic data interface to accept, track and report on customer orders, quickly and easily. We have outfitted the warehouse with computers throughout, so information on orders to be filled is always at reach.
And we pride ourselves on our preparedness. Should there be a disaster, we have multiple high-speed Internet lines and back-up servers located in three different weather zones (and different power grids), providing vital backup. In addition, our sophisticated systems of generators will immediately activate, enabling us to continue all aspects of business operations without interruption. Our goal is to minimize client risk and ensure that all operations are safe and secure.
Our technology and access to data allows us to provide class-leading service and to do so in the most efficient manner. This allows us to pass along the savings in the form of lower prices and drastically differentiated service.
Technology has allowed us to enhance our customer service, with many of us "plugged in" 24/7 and able to access information on orders and deliveries in just a few minutes. We have the ability to track our drivers to pinpoint arrival times and receive electronic alerts regarding orders placed after hours. The investment we have made in new and emerging technologies is another way we prove our commitment to being the most progressive and responsive medical supplier in the industry.