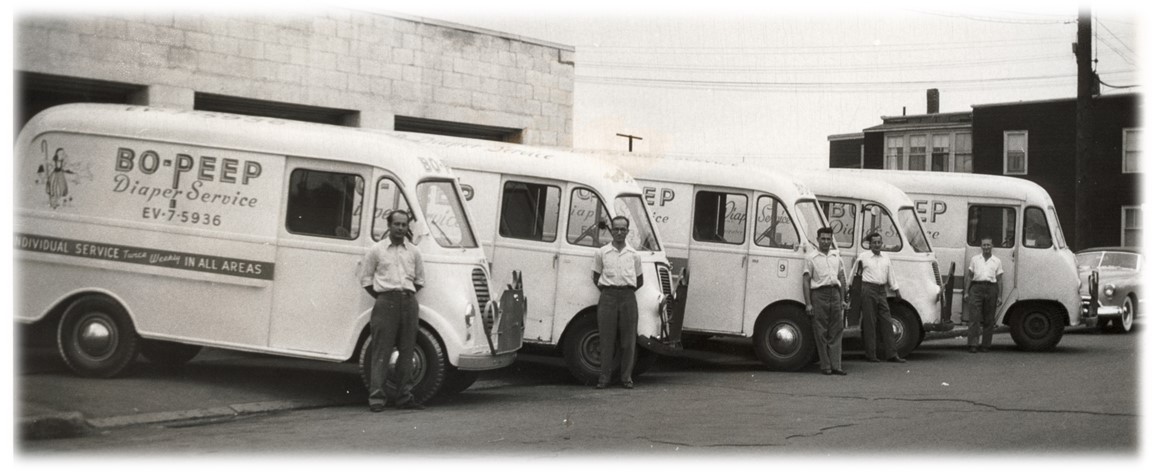 Delivering Dependability Since 1945, Bo-Peep to Geriatric Medical.
It was 1945 when America celebrated its victory in World War II. With a feeling of optimism and success, millions of American soldiers returned home, and the BABY BOOM began! Unable to find a baby diaper service for his daughter, our founder Jack Siegal saw opportunity in the baby diaper service market. Bo-Peep Diaper Service was started with a used washing machine, a big idea and a singular focus on dependable service.
Bo-Peep to Geriatric Medical
With Jack's obsession to providing the most dependable, cost effective service, Bo-Peep soon became the diaper service of choice to Boston area nursing homes. Jack expanded Bo-Peep rapidly and soon welcomed his son, Arthur Siegal, and his son-in-law, Ronnie Peyser, into the business. With the 2nd generation leading the charge, they continued Jack's focus on dependable service and expanded into nursing home supplies. When the supply business outgrew the diaper service, they shifted focus entirely and changed the company name to Geriatric Medical & Surgical Supply.
Geriatric Medical, Order Today And The Truck's On Its Way.
Today, the 3rd generation, Jeffrey Siegal (CEO) and Corey Peyser (EVP) lead Geriatric Medical. Their laser focus on providing the most dependable, cost effective service has resulted in unprecedented growth. Constantly searching for tools to provide the most dependable service, the team has embraced all forms of new technology; warehouse management systems, automated logistics, flexible routing, and advanced web ordering to name a few. Our employees utilize this innovative technology and work around clock in order to provide our unmatched delivery service. With a state of the art distribution center, a fleet of trucks and a family of employees who are trained to help, we are a one-stop shop for healthcare facilities and providers.
We attribute our success to satisfied and loyal customers, dedicated employees, a superior work ethic and a level of service that has been faithfully passed down from generation to generation.